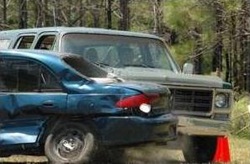 Story and photos by Senior Airman Thomas Kielbasa

Florida National Guard Public Affairs

GRAHAM, Fla. – A Hollywood stuntman doesn't have anything on Sgt. Adam Anderson.

The Florida National Guard sergeant was among six Soldiers who took part in a week of specialized anti-terrorism training in late April, which included learning high-speed driving tactics similar to those seen in action movies. At a secluded shooting club in west Florida on April 29, Anderson plowed a beat-up 1979 Chevy Suburban into a parked car at a makeshift roadblock, fired a 9-mm pistol at targets from a moving truck, and practiced 180-degree turns that would have made James Bond proud.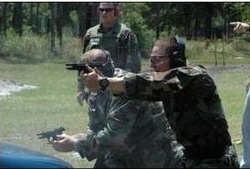 "I loved crashing the vehicle," Anderson said after the ramming exercise where he successfully broke through the roadblock by smashing into the rear end of a diminutive Ford Escort LX.

The rear quarter panel of the car had crumpled and sent a hubcap spinning off into the grass; Anderson and the hurtling Suburban skidded to a stop a less than a hundred feet away.

"That is the first serious car wreck I've ever been in," Anderson, a member the Florida National Guard's Force Protection assigned to Battery A, 1st Battalion, 265th Air Defense Artillery Regiment, explained later. "It really takes the fear out of getting in a collision like that."

The Soldiers involved in the week-long class – held at Camp Blanding Joint Training Center and the Bradford Sportsmen's Club in Graham – were all force protection personnel assigned with providing security for National Guard facilities and personnel in Florida. Since 2001, the Force Protection Soldiers have become familiar sights at armories and National Guard events across the state.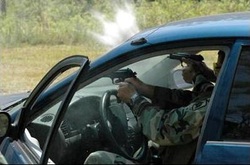 This training – although non-traditional – was aimed at improving their skills in the event of a terrorist attack against Florida's citizen-Soldiers and Airmen.

In another exercise, the Soldiers sat in the front seat of a car and fired pistols through the windshield at targets beyond the hood. After a few quick shots and a spray of glass, they exited the car and quickly ran behind the car – firing all the while. "Every day we're driving out on the road," Anderson said, "…and you never know when something may happen."

Course instructor Russ Adler explained the training was a necessary part of being a Soldier in the post-Sept. 11, 2001 environment. "It increases their confidence, their skills and their personal abilities to deter any kind of potential terrorist threats," Adler, whose Lake City, Fla.-based Adler and Associates provided the training. He noted that some of the advanced driving skills his firm teaches "are pretty much only found in racecar drivers. We take a combination of law enforcement pursuit driving skills and road course race driving and put it into a concise package to teach them the most advanced tactics and techniques."

In a shiny 2005 Pontiac Grand Am, Adler ran the National Guard contingent through a number of driving maneuvers like "bootleg turns," "J-turns," and high-speed reverse driving. "We teach them to think outside the box," he said. "Just because they are on a road doesn't mean they have to stay on the road. They can take walkways or any means to escape a potential terrorist threat, attack or kidnapping." He demonstrated a scenario where a Soldier driving a general officer pulls up to a terrorist roadblock and needs to make a fast getaway: shift to reverse, speed backwards, spin the steering wheel to the left, and halfway through the turn shift quickly into drive, spin back the wheel and accelerate. It's a flawless 180-degree turn that could save lives in the right situation. "They are taught to use their vehicle not only as a weapon, but as a means to escape (a threat) as well," he added.